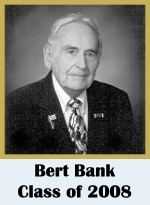 Bert Bank
ABA Hall of Fame - Class of 2008 Bert Bank (1914-2009) was a native of Montgomery, AL, attended elementary and high school in Tuscaloosa. He attended the University of Alabama Law School and graduated in 1940. He served his country with valor and distinction in World War II. Bert survived the torturous Bataan Death March of 33 brutal months as a prisoner of war. He returned to the United States where he spent two years in the Valley Forge General Hospital recovering from malnutrition. He separated from the Air Force in 1947 with the rank of Major. His book, Back From the Living Dead recounts his experiences as a prisoner of war.

He returned to Tuscaloosa where he started radio stations WTBC-AM and WUOA-FM and, in 1953, started the University of Alabama Football Network where he continues as the Producer Emeritus. He sold the radio stations in 1985. John Cochran, a graduate of The University of Alabama and White House correspondent for ABC television said this about the man who gave him his first job, "Bert Bank is a man whose blood runs red, white and blue. But in the fall on Saturday, the red is a little more crimson". He served as Past President of the Alabama Broadcasters Association 1949-1950.

Bert became very active in community affairs in the city of Tuscaloosa. He served his local community, the broadcast industry and the state of Alabama as a leader with numerous awards of service. A few of these honors are:

· Thad Holt Distinguished Broadcaster Award in 1969
· Alabama Broadcaster Association Lifetime Achievement Award
· Alabama Broadcasters Association Hall of Fame induction Class of 2008
· Silver Medal as Man of the Year by the Tuscaloosa Advertising Club
· University of Alabama College of Communication and Information Sciences, Distinguished Service and Outstanding Alumnus
· Presented Bronze Star by U.S. Air Force
· Established The Bert Bank Endowed Patriotism Scholarship Fund, University of Alabama

He was elected to the Alabama House of Representatives in 1966 and served two terms. In 1974, he was elected to the Alabama Senate and served one term ending in 1978 when he ran unsuccessfully for Lt. Governor of Alabama. He served under three Governors and each one recognized his leadership by asking him to serve as floor leader.

During his twelve years in the Alabama House and Senate, Bert offered legislation that was passed requiring that the philosophy of patriotism be taught in every public school in Alabama. He introduced legislation that made it a felony to burn the American flag, the first state to do so. He also authored legislation to make it a felony to burn a draft card, again, the first state to do so. Other successful legislation introduced by Mr. Bank made it possible for Veterans of the Gulf War to participate in the state sponsored college education program and he passed legislation that rewarded the 21 Alabama Vietnam Prisoners of War with a special $500 bonus.

Mr. Bank was a member of the Disabled American Veterans, American Legion, and the Veterans of Foreign Wars and was recognized by all of these organizations for his outstanding service to veterans. He was married to the former Gertrude Watson of Northport, AL. They had two sons, Jimmy and Ralph.