2180 Parkway Lake Drive • Hoover AL 35244 • PHONE 205.982.5001 | 800.211.5189 • FAX: 205.982.0015
Make sure your annual ABA dues and  ABBY Awards entry fees are paid by the deadline on January 30!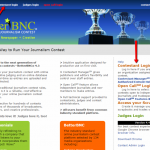 The 2015 ABBY Awards Entry Portal is open through Friday, January 30th at Better BNC.
Also, you can download the Call for Entries, including the Better BNC instructions.
If you can't remember the password used for your station(s) last year,
contact Niki Thomas.
If your station membership dues and/or ABBY entry fees have not been received by the judging, your entries will not be included.