The purpose of this award is to honor and pay tribute to a citizen of Alabama for distinguished and honorable public service, and outstanding contributions to the well being, prosperity and progress of the state.
ABA's Citizen of the Year is someone who has enhanced and enriched the lives of Alabamians by leadership and unselfish service to his or her community and the state. This leadership can be recognition of outstanding contributions to education, business, professional, civic, philanthropic or religious ideals that have benefited Alabama citizens.
While the award itself carries a date, it is not primarily devoted to one single achievement in a specific year. It is designed to award continuing service and leadership.
ABA CITIZENS OF THE YEAR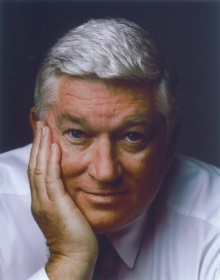 2016 – Don Logan

Retired Chairman of Time Warner Inc.'s Media and Communications Group, Logan is recognized for his leadership role in bringing a "renaissance" to downtown Birmingham.
In 2006, the Logan family purchased the Birmingham Barons Minor League franchise, becoming the 11th owner in the Barons' storied history that spans more than 100 years. The family also owns Birmingham based Seek Publishing and recently acquired, along with two partners, B.A.S.S., the largest membership organization of bass anglers in the U.S.
2015 – Sergeant Noah Galloway, Motivational Speaker
2014 – Jimmy Rane, President and CEO of the Great Southern Wood Preserving Company
2013 – John Stallworth, Philanthropist and former NFL star
2012 – Walt Maddox, Mayor of Tuscaloosa
2011 – Not Named
2010 – Not Named
2009 – Patricia Barnes – "Sister Schubert"
2008 – Katherine Tucker Windham
2007 – Dr. Jack Hawkins, Jr.
2006 – Alabama Army National Guard/Alabama Air National Guard/US Coast Guard
2005 – Not Named
2004 – Mother Angelica
2003 – Bart Starr
2002 – Congressman Sonny Callahan
2001 – Not Named
2000 – Not Named
1999 – Not Named
1998 – Andreas Renschler, Mercedes
1997 – Not Named
1996 – Elmer Harris
1995 – Dr. David G. Bronner
1994 – James Redfield
1993 – Robert E. Lowder
1992 – Claude Harris Jr.
1991 – Not Named
1990 – Fred Sington
1989 – Joe Bruno
1988 – Winton Blount
1987 – Edgar Weldon
1986 – Emil Hess
1985 – Bobby Allison
1984 – John M. Harbert, III
1983 – "ALABAMA"
1982 – Charles A. Boswell
1981 – William R. Ireland
1980 – Not Named
1979 – George Wallace
1978 – Dr. David Matthews
1977 – George "Goober" Lindsey
1976 – A.G. Gaston
1975 – Chief Justice Howell Heflin
1974 – Roscoe Whatley
1973 – Coach Ralph "Shug" Jordan
1972 – Frank Spain
1971 – Senator Lister Hill
1970 – Dr. Harry Philpott
1969 – Dr. Frank Rose
1968 – Captain Anthony Normand, U.S. Army
1967 – Coach Paul "Bear" Bryant
1966 – Frank Samford