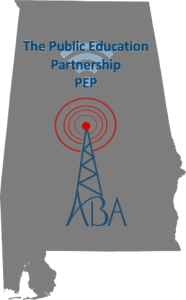 •

TV TRAFFIC INSTRUCTIONS

• FTP DOWNLOADS – Host: 66.96.130.19 (user: al-ba   pwd: al-ba1)

• ABC/PSC DOWNLOADS (Dropbox)

• ELECTRONIC INVOiCES

     – Spotdata: IDB# 2030

     – Marketron: 168827

    – STRATA TvINVOICES.COM:

          TvInvoices ID:  9915957 or TV15957  (stations can choose to activate using numeric or alphanumeric)

Please contact Niki Thomas at the ABA if you have any questions. Phone: 205-982-5001 | 800-211-5189 FAX: 205-982-0015

* – Additional Bicentennial "Alabama Legacy" Spots
In addition to the four Bicentennial spots the ABA is sending you every three months, there are more "Legacy Moments" radio and TV spots available.

At the link below, they are divided into Radio and TV folders where you will find subfolders for geographic regions of the state.

We are not assigning ISCI codes to the extra spots. If you use any of these additional spots, please label them with LM and the title of the spot. For instance, "LM: William Rufus King" or "LM: Tuscaloosa."

Feel free to substitute any of the additional spots for the four we have sent you. Just be sure to label the spots in a way we can identify them for the Bicentennial Committee. We must provide proof of performance in the PEP program.